Hi there,
---
Thank you for stopping by and visiting my website. I am Kanak, a contemporary mixed media artist based in Sydney.
Born and brought up in India, I then moved to Singapore and lived there for several years before coming to Australia and calling this beautiful country my home. I have always been a nature lover and in awe of the colours and textures found in nature thus unconsciously my themes are directly borrowed from nature, be it an animal or bird. Sometimes it is the abstracts, but even then it is the colours and textures of nature that I find my inspirations from. I endeavour to create paintings that are pleasing to the eyes and sing a joyous song for the soul. I work with mixed media ,building layers upon layers and the intricacies of the lower level peeking out and playing hide and seek with the onlooker. The paintings are colourful, vibrant and exuberating with positive energy as they celebrate the colours of nature itself. In short, Nature is my Muse and my paintings are a song in its praise.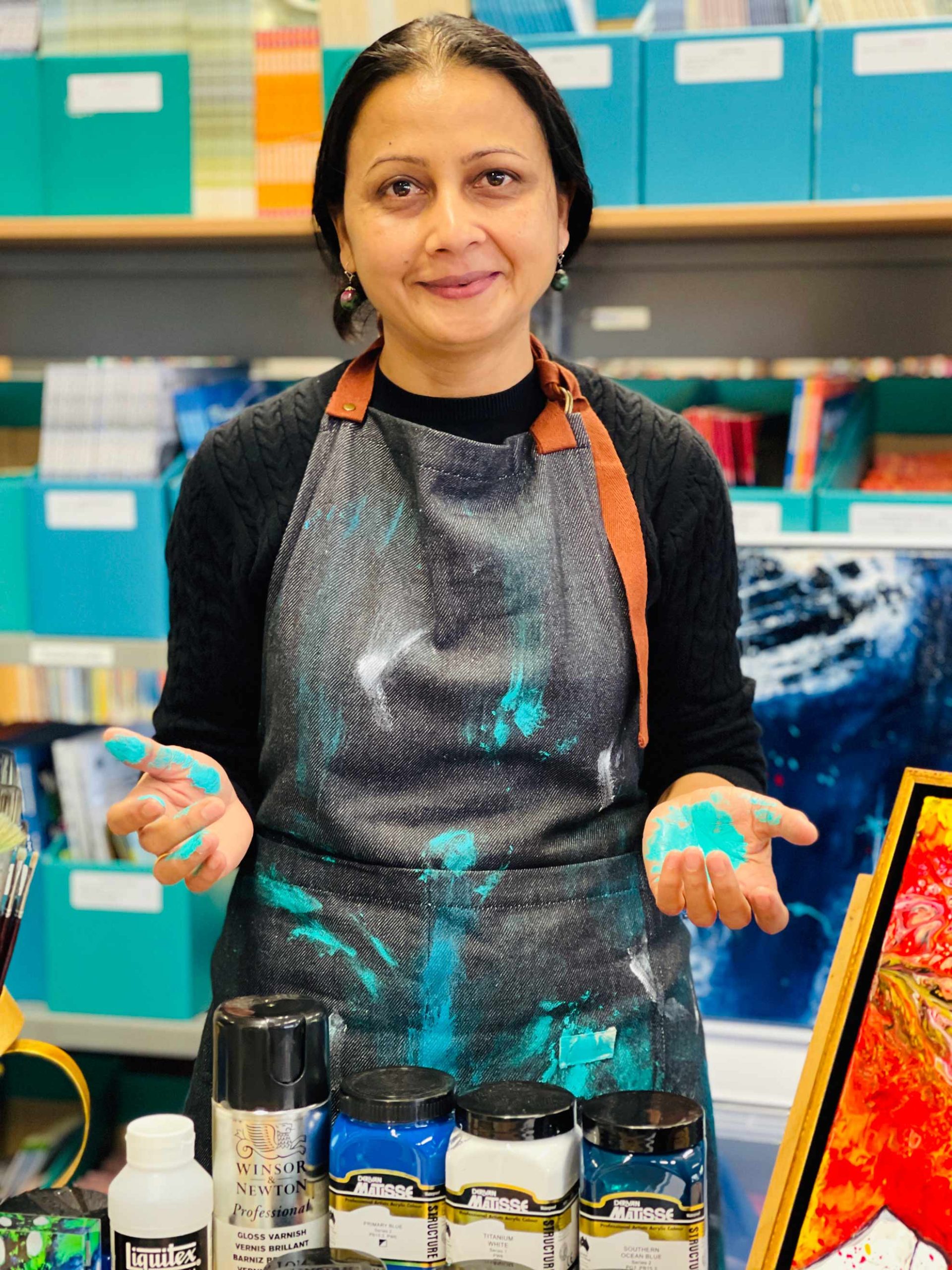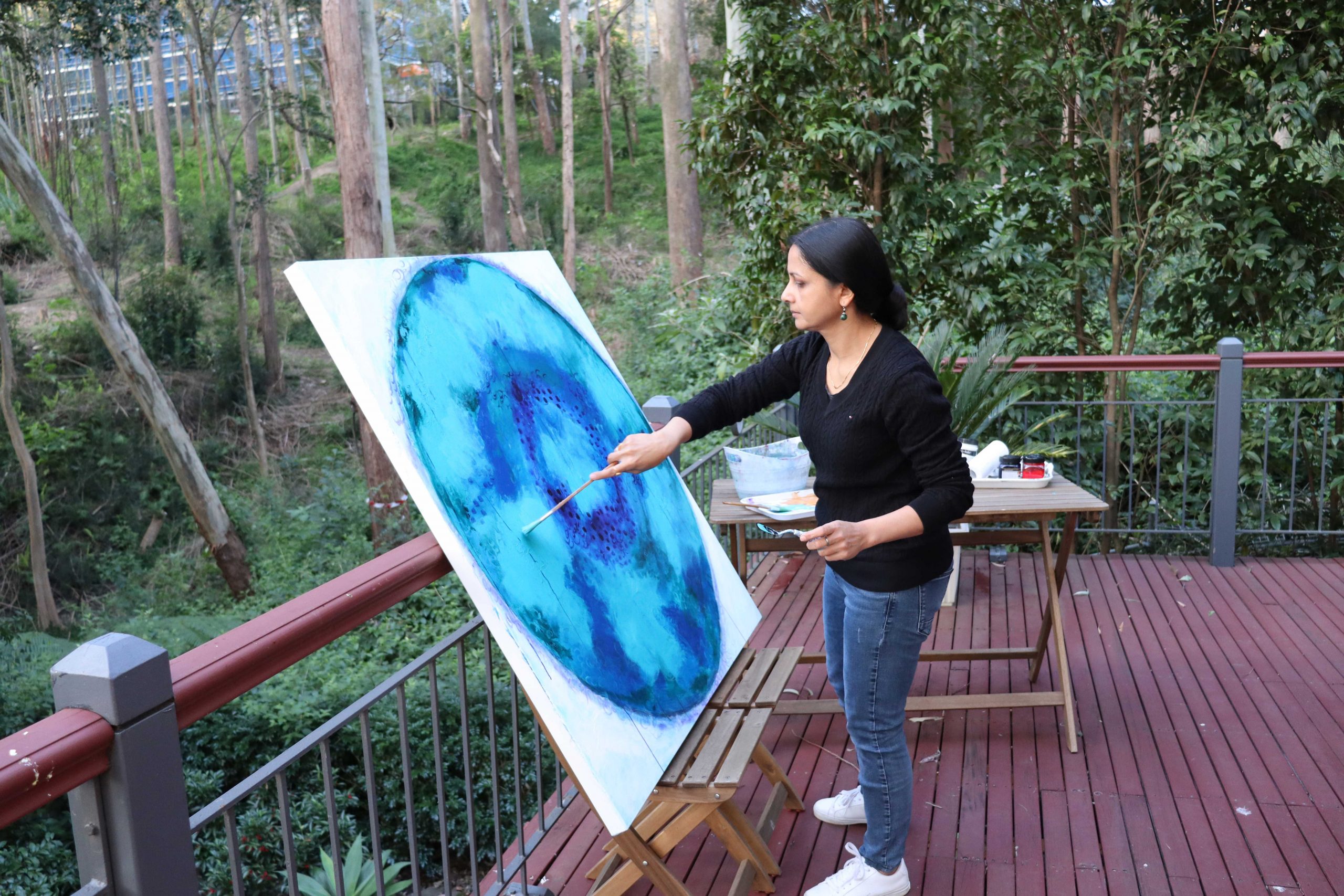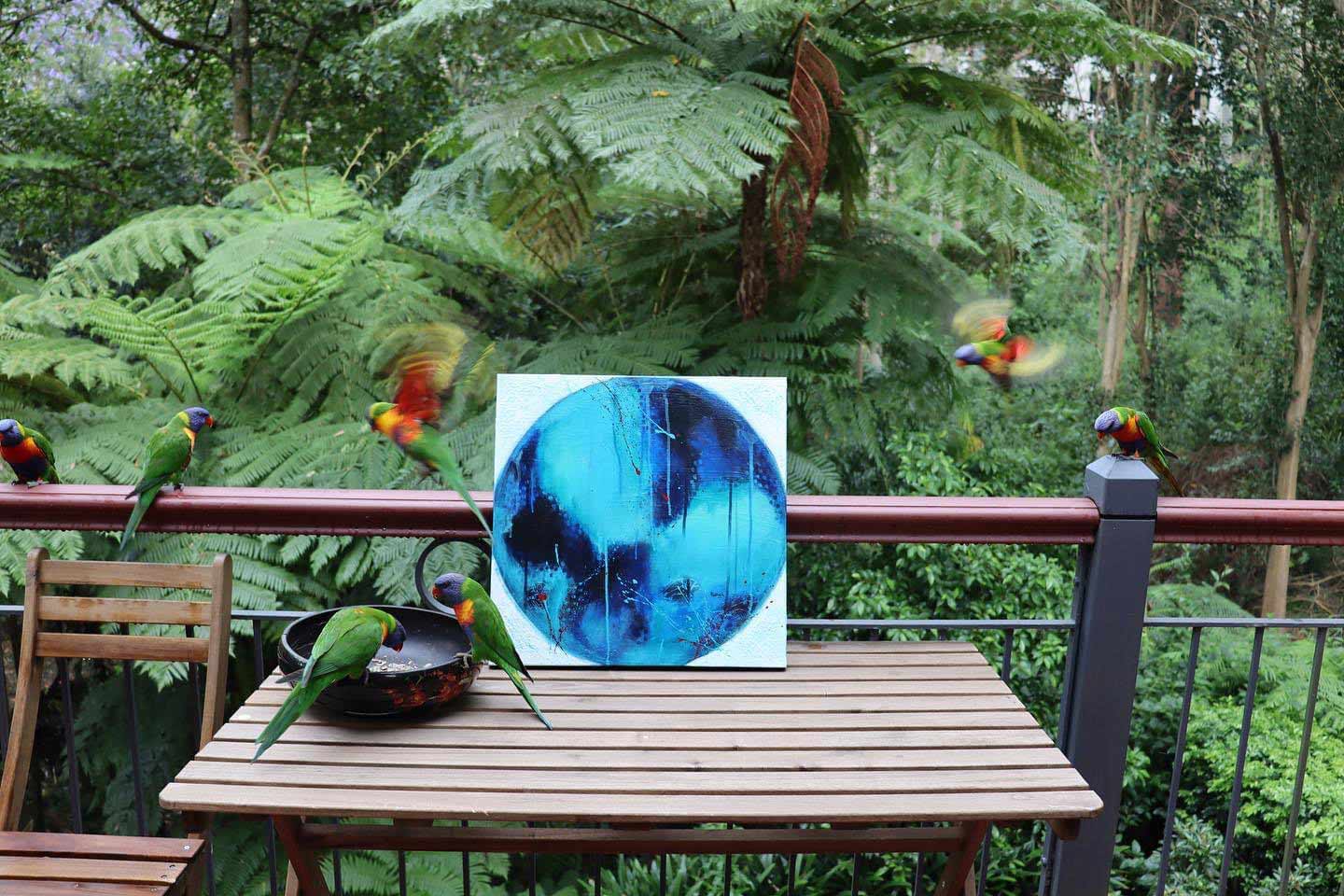 Kanak is a contemporary artist based in Sydney and working with mixed media. She is largely a self taught artist and has completed a Certificate Course in Post-war Abstract Painting from the most prestigious MoMA (The Museum of Modern Art) New York.
Her works have been exhibited in South Korea, Sweden, Helsinki, Australia, Singapore, Dubai and India. She has proudly exhibited her work at the prestigious World Art Dubai, Affordable Art Fair Melbourne and Affordable Art Fair Singapore. Her artworks are with collectors in London, Helsinki, Dubai, Singapore, Australia and India.
She has been part of various Community Projects and Fundraising events in Singapore and Sydney. She was part of Singapore Plank Art Project 2017 which was launched by the Honourable Prime Minister of Singapore - Mr. Lee Hsien Loong. Again in 2018, she was part of the Apron Project to support Hornsby Woman's Shelter, Sydney. During Bushfires, two of her paintings were auctioned to support the local communities and to raise funds for the NSW Rural Fire Service at Turramurra, Sydney. She has raised funds for Lifeline Australia, Women for Change, Womens Justice Network through auctioning her artworks at their Fundraising Events and was also part of the Incognito Art Show, 2022. She has been awarded by NSW Government for helping Seniors in 2022.
Past Exhibitions:
2022 Lindfield Art show and Fair, Sydney
2022 The Other Art Fair, Sydney
2022 CASS exhibition at Gallery One88, Katoomba
2022 Solo Exhibition at Marie France Art Gallery/ Salon at West Pymble
2021 Art of Sydney Exhibition , Combined Art Societies of Sydney (online)
2021 MRT1 Art Auction for Charity and Fund Raising (India)
2020 Summer Vibes group exhibition, The Space Gallery, Sydney
2020 Carlingford Community Art Show (online), Sydney
2020 Ku-ring-gai Art Society Spring Exhibition, Sydney
2020 Art of Sydney Exhibition, Australian National Maritime Museum, Sydney
2019 Affordable Art Fair, Melbourne
2019 Haegeumgang Theme Museum Exhibition, South Korea
2019 Ku-ring-gai Art Society Awards Exhibition, Sydney
2019 Ku-ring-gai Art Society Spring Exhibition, Sydney
2018 Haegeumgang Theme Museum Exhibition, South Korea
2018 Sweden Art Show
2018 Helsinki Tatinis Art Show
2018 World Art Dubai
2018 Gautam Buddha Exhibition, Singapore
2018 Pymble Ladies College (Garden Party Exhibition), Australia
2017 World Art Dubai
2017 Affordable Art Fair, Singapore
2017 Spaces of Sanctity, Singapore
2017 Tatinis Art Show, The Arts House, Singapore
2017 St. Luke's Hospital Charity Exhibition, Singapore
2016 World Art Dubai
2016 Ganesha Exhibition, Singapore
2016 Varnam Art Exhibition, Singapore
2016 India Art Festival, Mumbai India
2016 India Art Festival, Delhi India
2016 Ram Krishna Charity Exhibition, Singapore
2015 Solo Art Exhibition, Hollandse Club, Singapore
Public Collections:
"The Blue Elephant" Haegeumgang Theme Museum, South Korea 2019
"Beach" Pymble Ladies College, Sydney, Australia 2018
"The Ethereal Lotus" Haegeumgang Theme Museum, South Korea 2018
"The Birds" St. Lukes Hospital, Singapore 2017

We purchased an absolutely delightful piece of artwork from Kanak Kiran. The artwork was of the highest quality and we loved the design, expression of colours and the texture and depth of the materials. The artwork was provided framed and we were very pleased with the contemporary choice of the white frame. It was delivered to us with a certificate of authentication and packed very carefully to protect the artwork from damage. Our overall experience was definitely better than expected and now we are enjoying an original piece of art from Kanak.
---

Lydia and Duncan Purvis, Sydney, Australia

Kanak is a highly talented artist, who has a unique way with colours. I am a proud owner of two of her artworks. One is a beautiful whirlpool that has so much depth and clarity, despite using just one primary colour. It lights up our living room and we feel lucky to have it in our home. The other one is a very artistically painted Ganesha (a Hindu God with an elephant's head), which brings in beauty and sanctity to our bedroom. I would like to congratulate Kanak on her amazing journey and wish her all the very best in all her endeavours in the art world - .
---

Kanak's beautiful painting of Ganesh has adorned the entrance of our home for some time now. The colors, technique and sentiment that the painting evokes are all very powerful. I often find details that I've missed before and it's lovely to discover further depth in a piece one has owned for a while. We love this piece very much! Thanks Kanak !
---

Anumeha Bisaria, Singapore

Love for nature is the strength in Kanak's artworks. Her elephants are transformed to Ganesha with great composition sense...the technique is completely in her control and she enjoys it.... Her works are in many private collections globally...Congratulations Kanak my best wishes.... Subramanian Gopalsamy
---

Contact me for

Individual

Orders